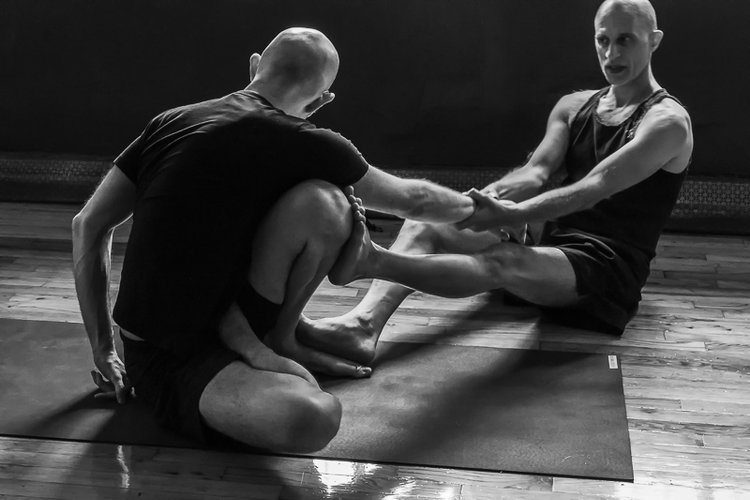 Deepening your practice through Adjustments
Primary Series
Workshop in two weekends
Guy Donahey
April 21-22 & May 5-6
Adjustments are at the heart of traditional Ashtanga practice. As more and more students fill classes, there is less and less opportunity to experience this way of learning. Even in India this tradition is being lost: the original Mysore shalla had room for only 8 students and there were two assistants, so everyone learned by receiving practical instruction.
In this workshop, you will take on the role of a student and a teacher who switch back and forth over and over again. In each session we will only work with a few poses that will be repeated over and over again. Go deeper, both in teaching practice and in posture practice. Instead of practicing 50+ asanas once, practice a small number of asanas many times. It goes deep.
The first principle of yoga is ahimsa – "do no harm" – it also means "be loving, compassionate, nurturing and kind" – these are the main requirements for safety, trust, submission and efficiency.
Divide into small groups, one member will adjust, one will be adjusted and one will observe. Then the roles change. After everyone does all the roles in the small group, the groups will change and the method repeats itself. Did we already say many time each asana?
Only one asana is shown at a time, the adaptations are shown by demonstration: several variations will be offered. Different bodies have different needs and each posture can be adjusted in several ways according to the student's body. There is plenty of time to ask questions in case of doubt. Guy will watch all the groups closely and give advice and help as needed.
Each meeting will begin with repeated adjustments from previous days, so that the memory is not lost and the methodology deepens. New asanas will then be introduced. It's like a Mysore-style practice: repetition, memorization and deepening over time. The system works very well. It has been tried and tested for decades. This is the way Guy has trained his assistants for the past 30 years.
The adjustments are designed to educate the body to move wisely, to selectively use the right muscles and to release tension that limits movement in the desired direction.
Adjustments can allow students to feel as if they are practicing an asana correctly where they would otherwise struggle, and once the posture has been deepened through an adjustment it is more easily accessible through independent practice.
The adjustments should give the student a sense of liberation, freedom of movement and safety while at the same time keeping them grounded, stable and safe. Through feeling grounded and secure, the body can submit to informed guidance and move to or toward a desired "perfect" asana.
Moving the body in its natural range of motion does not require strength, but understanding and direction, sensitivity and correct perception – these are the qualities we will work to cultivate.
The workshop is suitable for practitioners who have a consistent and regular yoga practice. It is ideal for Ashtanga practitioners with regular practice for 6 months or more. However, flexible practitioners who come from other traditions are also welcome. If you don't exercise regularly, the workshop can be hard on the body. The workshop is suitable for practitioners who practice the first series.
Friday 21.4 – Adjustments – Learning workshop – 15-18
Saturday 22.4 – Mysore – 9-11
Saturday 22.4 – Adjustments – Learning workshop – 12-15
---
Friday 5.5 – Adjustments – learning workshop – 15-18
Saturday 6.5 – Mysore – 9-11
Saturday 6.5 – Adjustments – learning workshop – 12-15